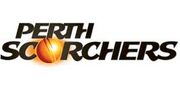 The Perth Scorchers are a team in the Big Bash League, representing Perth. They wear an orange kit. Their captain was Marcus North.North resigned in November 2012 and was replaced by Simon Katich. The Scorchers were runners-up in the Big Bash League final on 28th January 2012 and qualified for the Champions League, in which they failed to make the finals.
Ad blocker interference detected!
Wikia is a free-to-use site that makes money from advertising. We have a modified experience for viewers using ad blockers

Wikia is not accessible if you've made further modifications. Remove the custom ad blocker rule(s) and the page will load as expected.