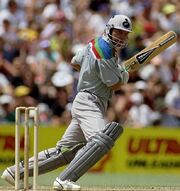 Martin David Crowe, MBE is a former New Zealand cricketer, commentator and author. He was a Wisden Cricketer of the Year in 1985, and was credited as one of the "best young batsmen in the world". A right-handed batsman, Crowe represented New Zealand from the early 1980s until his retirement in 1996. Through the early part of his career he was also a medium-pace bowler. He captained New Zealand in the early 1990s, and during this period he brought many innovations, such as opening with spin bowlers and utilising pinch hitting batsmen.
Crowe made his first class debut for Auckland against Canturbury aged 17. He scored 51. Crowe represented four domestic cricket teams in his career, Auckland, Central Districts, Somerset and Wellington. He scored nearly 20,000 first-class runs, with 71 centuries.
Crowe played 77 test matches, averaging 45.65 with the bat, including 17 centuries and 18 half-centuries. He also played 143 One Day Internationals, averaging 38.55, and hit four centuries and 34 half-centuries. In 1991, he shared a 467-run partnership with Andrew Jones, at the time the highest partnership in Test history and in 2009 remained the third highest. Crowe was dismissed on 299, the highest innings by a New Zealander in Test history,until 2014 when Brendon McCullum became the first New Zealander to score a Test Triple Century. Inzamam-ul-Haq considered him to be one of the three best batsmen he has seen along with Viv Richards and Ricky Ponting.
He also made the highest number of runs in the 1992 Cricket World Cup, in which New Zealand came first in the league round before losing to fourth-qualified Pakistan in the semifinal. Whilst captaining in the World Cup, New Zealand lost only two matches. In the 1992 New Year Honours, Crowe was made a Member of the Order of the British Empire, for services to cricket.
On 19 May 2011, Crowe commented on Twitter that he wanted to improve his fitness by setting a goal to play first-class cricket again. He cited that he was only 3 first-class matches away from 250 matches, and 392 runs short of 20,000 runs. Crowe took his first step to playing first-class cricket by playing at club level at the age of 49. He played for the Cornwall reserve grade team, captaining them and batting at No.3 against Papatoetoe in a second-division club match in Auckland.
On 28 February 2015, Crowe was inducted into the ICC Cricket Hall of Fame in an emotional ceremony during the lunch break of New Zealand's winning pool game against Australia during the 2015 Cricket World Cup.
Statistics
Edit
Test Centuries
Edit
Martin Crowe's Test Centuries
#
Runs
Match
Against
City/Country
Venue
Year
Result
1
100
8
England
Wellington, New Zealand
Basin Reserve
1984
Drawn
2
188
21
West Indies
Georgetown, Guyana
Bourda
1985
Drawn
3
188
24
Australia
Brisbane, Australia
The Gabba
1985
Won
4
137
28
Australia
Christchurch, New Zealand
Lancaster Park
1986
Drawn
5
106
30
England
London, England
Lord's
1986
Drawn
6
119
33
West Indies
Wellington, New Zealand
Basin Reserve
1987
Drawn
7
104
34
West Indies
Auckland, New Zealand
Eden Park
1987
Lost
8
137
38
Australia
Adelaide, Australia
Adelaide Oval
1987
Drawn
9
143
39
England
Wellington, New Zealand
Basin Reserve
1988
Drawn
10
174
40
Pakistan
Wellington, New Zealand
Basin Reserve
1989
Drawn
11
113
45
India
Auckland, New Zealand
Eden Park
1990
Drawn
12
108*
50
Pakistan
Lahore, Pakistan
Gadaafi Stadium
1990
Lost
13
299
52
Sri Lanka
Wellington, New Zealand
Basin Reserve
1991
Drawn
14
140
58
Zimbabwe
Harare, Zimbabwe
Harare Sports Club
1992
Won
15
107
60
Sri Lanka
Colombo, Sri Lanka
Sinhalese Sports Club
1992
Lost
16
142
66
England
London, England
Lord's
1994
Drawn
17
115
67
England
Manchester, England
Old Trafford
1994
Drawn
One Day International Centuries
Edit
Ad blocker interference detected!
Wikia is a free-to-use site that makes money from advertising. We have a modified experience for viewers using ad blockers

Wikia is not accessible if you've made further modifications. Remove the custom ad blocker rule(s) and the page will load as expected.