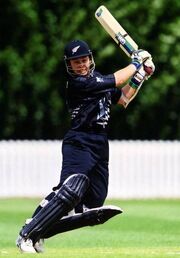 Deborah "Debbie" Ann Hockley, is a former New Zealand cricketer. Hockley played in 19 Women's Test matches, making a high score of 126 not out and averaging 52.04. Hockley captained New Zealand in six Tests, drawing them all. In women's one-day internationals, Hockley averaged 41.89 in her 118 games. She captained in 27 of them, winning 12 and losing 15. She was inducted into the ICC Cricket Hall of Fame in 2013 one of only three female players to be so honoured.
Debbie Hockley represented Canterbury at 15 years old and played her first test for New Zealand in 1979 when she was 16. She became the first woman to score 1,000 test runs and had an average of 52.04. She played in the Women's Cricket World Cup five times from 1982 to 2000 and her aggregate of 1,351, which includes two centuries, is the most scored in this competition. Hockley played in 118 one-day internationals scoring 4,064 runs, including four centuries and 34 half-centuries. Her one-day international average was 41.89. Debbie Hockley's historical significance as one of women's cricket's greatest batsmen will endure, regardless of the game's evolution.
Ad blocker interference detected!
Wikia is a free-to-use site that makes money from advertising. We have a modified experience for viewers using ad blockers

Wikia is not accessible if you've made further modifications. Remove the custom ad blocker rule(s) and the page will load as expected.