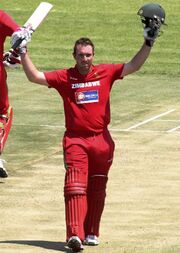 Brendan Ross Murray Taylor was born 6 February, 1986 in Harare.
Being the current Zimbabwe captain,Brendan Taylor is one of their finest batsmen the country has ever produced. Taylor can also keep, being a wicket-keeper batsman for the initial part of his career. He is a top-order batsman who can also bat in the middle order.
Zimbabwe is one of the lesser known teams,some people even calling them minnows along with Bangladesh
Ad blocker interference detected!
Wikia is a free-to-use site that makes money from advertising. We have a modified experience for viewers using ad blockers

Wikia is not accessible if you've made further modifications. Remove the custom ad blocker rule(s) and the page will load as expected.